Find out what to expect.
Scroll down
Please filling in the form below to tell us your beautiful cake ideas for your special occassion. and we'll get back to you ASAP with a quote
Listed below are the starting prices for custom made cakes.
Prices may increase depending on the intricacy of your cake.
Size
Layers
Approx. Servings
Starting Price

6″

2
6-8
$42
3
10-12
$55

8″

2
14-16
$65
3
22-24
$89

10″

2
24-26
$95
3
36-38
$129

12″

2
38-40
$135
3
52-56
$169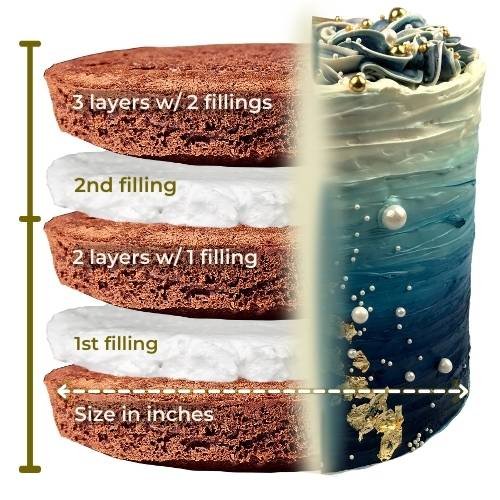 Free delivery within Calgary
Get 10% Off Your First Order
Order now → Receive Later!
Select a date at the Checkout
What to expect
from a custom cake request
One-on-one with a baker who listens.
Attention to the detail that matters.
Peace of mind that your creation arrives on time.
An understanding that it's not just a cake
Did you know?
60% of our requests get turned down.
We'd love to make your cake but we book out… quickly. Don't leave it until the last minute! Ordering in advance is essential.
Ready to get serious about cake?
Weddding cakes are generally 30% more expensive than other specialty cakes
Deciding on your perfect wedding cak 
Currently accepting wedding cake consultation requests. 2022 season nearly full.