Kakes & Kanvas was founded by Kalia Gounden with the bold dream of inspiring this beautiful world with her greatest passions, to promote love, positivity, creativity, & kindness.
Kakes & Kanvas is an outlet for individuals to just "let go" of all the things that we sometimes let bring us down in today's society, whether it be through receiving a cake or other sweet confection, getting lost in Kalia's pieces or attending a Kakes & Kanvas Paint Night.
Kakes & Kanvas is Calgary based, however Kalia shares her passions with everyone she meets on her travels throughout the world. Once a Calgary Kakes & Kanvas store front is up and running, Kalia hopes to take this venture worldwide.
"The world needs more outlets that provide passion, inspiration, positivity, support and love. Through our Paint Nights, cakes, & pieces we are able to provide a vessel to accomplish a life long moment that gives individuals true joy, and untainted self expression."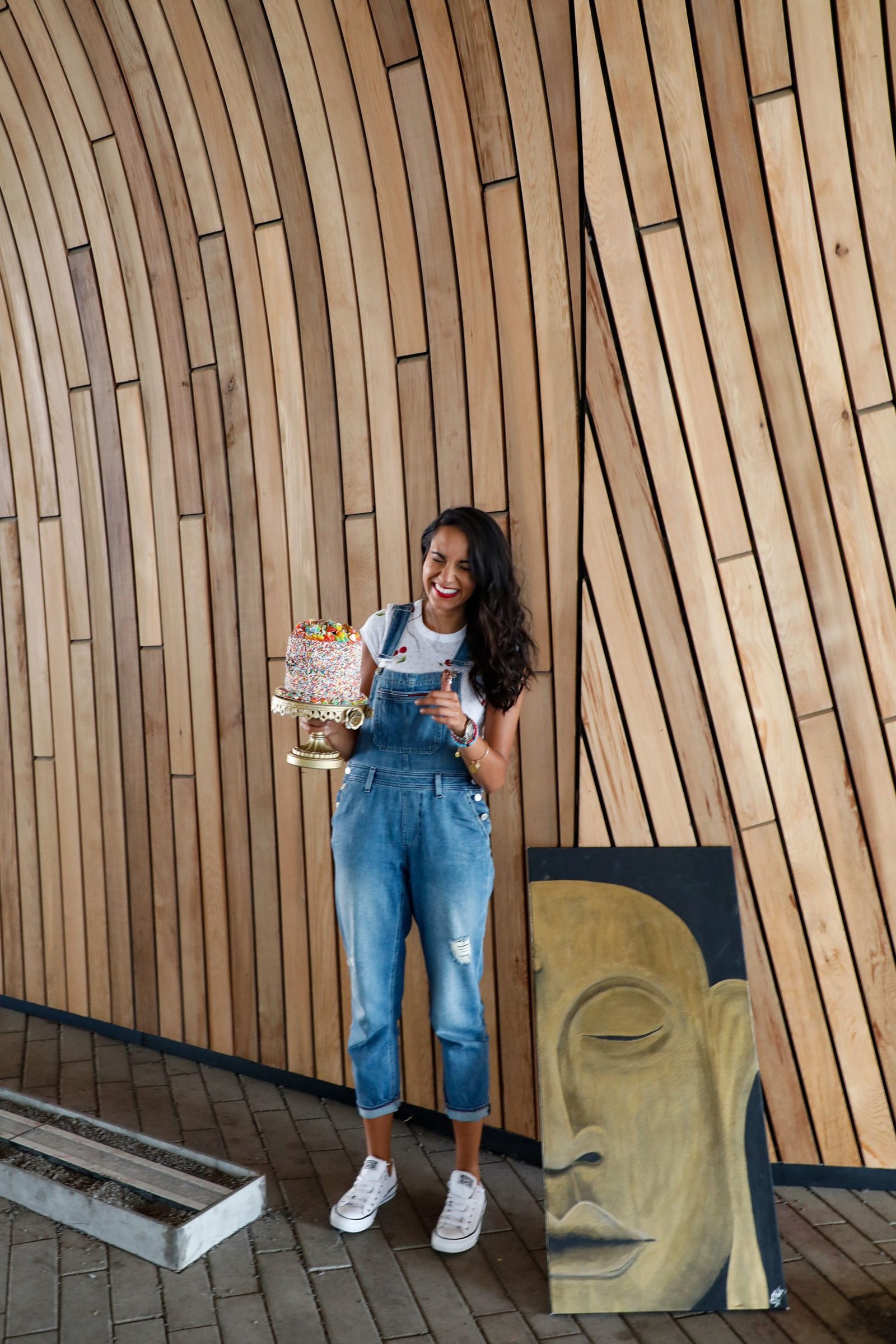 Kalia Gounden has a unique style to her art, which has captivated several founding artists  of The Art Box in Calgary, Alberta; which ultimately lead to her work being displayed for the grand opening in October 2013, and months after that.
Kalia's use of colour and methods of self-expression are unreal, as they tend to have great effects on individuals; how they feel, think and process the piece. Kalia chooses to leave it all on the canvas; as painting has become her outlet, and choice of expression. Each piece has a story of her journey ingrained in every brush stroke.
Kalia's pieces are in homes across the globe. Several in her hometown of Calgary, Alberta, British Columbia, and Ontario; internationally, in the USA, Italy, France, Portugal, Germany, Hawaii, and Australia. Kalia has been the youth coordinator of GCCA of Calgary (Guyana Canada Cultural Association) for several years, which ultimately her lead role in organizing their first a Paint Night/Gallery with the association, which many called a great success.
"Art is how I communicate my feelings, thoughts & pain, how I gain closure. If you want to know more about me, don't just look at my art, see it, feel it."
Kalia's love for the arts and baking started at a young age, baking her first solo kake at of 6. Excelling at school/personal art projects, often having her artwork/projects showcased at the front office and/or outside the classroom. Throughout her life Kalia has strived to make this world a better place with her art and baking, to brighten individuals days in the slightest of ways.
Kalia has baked in kitchens across the world including, across Canada and the United States, Belize, Guyana, Germany, France, Spain, Portugal, and Australia. Kalia baked with underprivileged children in Portugal, sharing her passion and love for baking with the youth of Cabacos.
Kalia's passions have been to be the only constant through her life struggles.